Olá!
Voltei com mais um desafio do sketch no
blog da Imaginisce
! Oba! E desta vez quem criou este sketch foi a querida
Erin Bassett
. Você pode ver o que o Time todo fez
aqui!
E para participar deste desafio,vc deve: Deixar um comentário aqui e em todos os blogs participantes (veja relação de
Designers no blog da Imaginisce
) e concorra a um kit de premios no valor de mais de 50 dólares em produtos Imaginisce. Quanto mais vc comentar mais chances tem de ganhar!
Validos para comentários feitos HOJE e Neste post!
E se vc quiser participar com a gente, basta fazer uma página ou cartão baseados neste sketch e publicar no seu blog, Facebook ou qualquer galeria virtual .Depois, mande o link para o post do sketch no blog
da Imaginisce
. (Fique de olho no blog que lá tem maiores detalhes.)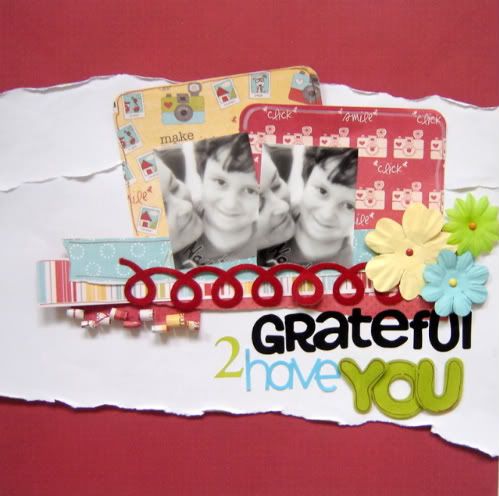 O prazo para este desafio é até o dia 25 de março. Não fique de fora pois vc pode ganhar um lindo kit de produtos
Imaginisce
. Bacana né?
Aqui minha página baseada neste sketch:
Grateful 2 have you
Usei papeis e flores da coleção Scooter´s vacation e Polar Expression by Imaginisce , alfabetos Doodlebug e Thickers, e fita em feltro Arte.1
Obrigada pela visita!
Logo volto com mais novidades!
Boa semana pra quem passa por aqui!
bjs
Now in English
We have another Sketch Challenge on
Imaginisce blog.
This super sketch was created by
Erin Bassett
and you can see the Design Team members takes listed here.
So leave a comment here and on
Imaginisce blog
....then HOP ON OVER to the other design team blogs and leave a comment there too...you'll be entered to win an Imaginisce Prize Package (value $50+)....please only one comment per blog, but you can enter 23 times if you leave a

comment on each of the blogs today only (and here too)!!

The winner will be revealed by the end of the week!!

AND YOU CAN SKETCH TOO....
Do you want to play with us? Create a card or layout using IMAGINISCE PRODUCTS and this super sketch for inspiration before March. 25th. Post it to either the Imaginisce Facebook gallery or post a link to it on your own blog and list it on Imaginisce blog or on FB and they´ll select a winner to be featured on Imaginisce blog at the end of the month. And of course, that means you could win a great prize
Above, my take on this challenge! Hope you like it!
Thanks for stopping by!
Xoxo